Fabric Lifting Doors Without Flexible Track 00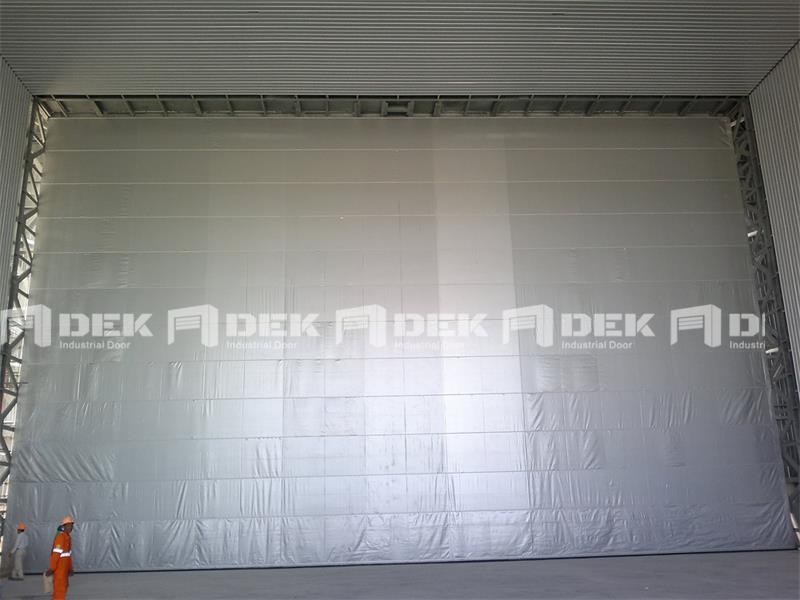 | | |
| --- | --- |
| 序列号: | DEKDJM-0200 |
| 操作系统: | SIEMENS PLC |
| 品牌名称: | DEK |
| 开启速度: | 12-17 m/min |
| 使用温度: | -35℃---65℃ |
| 出产地: | CHINA |
Details

Description
Fabric Lifting Door, with cross beams between PVC tarps, can be vertically lifted. According to the actual situation that there are layers on the ceiling, column guide rails were used to solve this problem. The door was installed in the inner part of the opening and the fabric were lifted to the upper side when opened, which takes up less room. It is composed of doorframe, guiding track, motive track (optional), door fabric, wind-resisting cross beams, beam frame, bottom beam, sealing system, driving system, transmitting system, safety system, automatic system.
Materials
1. Door fabric is PVC tarp which has many color and high-tensile strength;
2. Doorframe is made of steel, whose strength meets the requirement of its structure and surroundings; general selection is Q235;
3. Fall-arrest mechanism are all made of the NO.45 structural carbon steel with heat treatment;
4. Lifting sling can choose AFRP belt or steel wire rope with safety parameter between 6 and 10;
5. Guiding track is composite structure made of aluminum alloy and steel;
6. Electrical component choose reliable well-known brands;
7. Door operator choose specialized lifting motor, SEW motor, DEMAG and so on;
Characteristic
1. Light, and reduce the strength requirement for the truss on top of the opening;
2. Take up less room, can be installed in-house and take up no outside space when opened, keep from collision with other doors;
3. Long-span opening, can divide into several door by using flexible column, thus reduce thickness (ensure the wind-resisting strength)
4. Rational layout can be designed according to different layer of the building; advance structural design assures the maximum heat preservation.
5. The thickness can be designed according to different surroundings, sturdy and durable, high shock resistance performance.
6. Industrial door fabric is coated with PVC, which has a good performance of anti-solarization, rain and snow proof, sound absorption, noise reduction, flame retardant, heat preserving, gas defense, moisture proof, etc.
7. Higher safety parameter, with fall-arrest mechanism.
8. Easily installation and highly adaptable.
Technical Specifications
1. Opening speed: 12-17 m/min
2. Maximum size: width is unlimited; height≤100m;
3. Operating voltage: 380V/50Hz
4. Operating temperature: -35℃---65℃
5. Wind-resisting capacity: wind pressure requirement can be designed according to the local climate and customer's request.
6. Electrical motor and reduction box: domestic or import industrial lifting motor;
7. Control system: SIEMENS PLC or other brands;
8. The door can properly function under the wind speed of 24m/s;
9. Tensile strength: 4000N/5cm
Application
Well fit into openings that are long-span and super high, openings with the top shape like ladder and openings with narrow space on top, which take up neither inside nor outside space. It is especially fit for steel plant, smelter, metal processing plant, mining, blasting and painting shed, recycling plant, garbage processing base, shipyard, airship yard, paper mill, irrigation works, craneway and hangars, where is damp, extremely cold, strong wind pressure and dusty.