Hybrid Hangar Door 01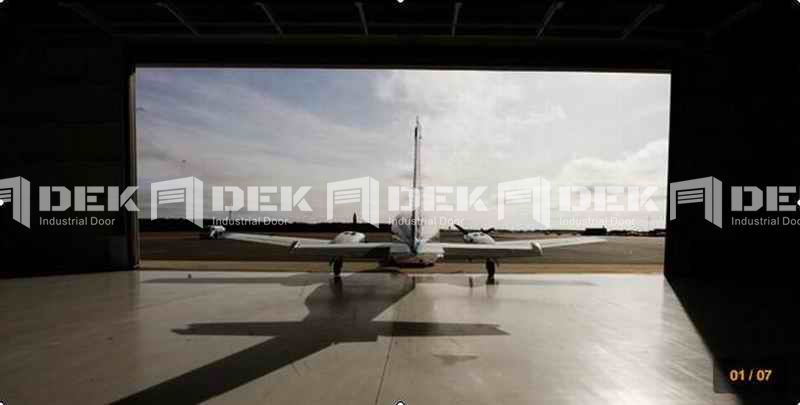 | | |
| --- | --- |
| Serial NO: | DEKJKM-0201 |
| OS: | SIEMENS PLC |
| Brand Name: | DEK |
| Opening Speed: | 6 m/min - 18 m/min |
| Temperature: | - 40 ℃ - 70 ℃ |
| Place Of Origin: | CHINA |
Details

Description
Heavy Auto Hangar Door can horizontally move between the top and bottom tracks. There are single, double and multi panels, which can be installed indoor or outdoor according to the actual surroundings. Hangar Door has various forms, specifications and panels.
Materials
1. The outside surface can use color plate, aluminum plate, corrosion resistant plate, aluminum composite plate, sunshine plate; while the inside can use steel-work as keel.
2. All steel-works are tested under the ISO9001 quality control system and industry standard before leaving the factory.
3. Coating reach national standard, service life are guaranteed;
4. Windows can choose toughened glass, sunshine plate, PC endurance plate, laminated glass and so on.
5. Sealing, EPDM or hairbrush; for higher gas tightness, inflatable bag is a good choice (optional)
Characteristic
1. Can realize intuitive detection and electric control.
2. Lower load-bearing,and the guides installed on the top.
3. Various structures,single track, multiple track for track type,the door could be double leaves / multiple leaves.
4. The moving mode have one side,bilateral,interworking moving.
5. The door can realize single and centralized control.
6. The door is designed with limit-protection and air-defense protection when opening or closing the door.
7. The design concept: independent research and development, as per customersrequirement,and the standards and norms of the Chinese industry.
Technical Specifications
1. External dimensions: according to user requirements.
2. Power supply: according to national standard in the power supply.
3. Opening speed:6 m/min - 18 m/min
4. Each door weight: according to the design.
5. Door leaves quantity: according to the design.
6. Wind load: the load is adjusted and restrict by load code.
7. Control system: centralized control, individually controlled are combination.
8. Sound system: more than 40dB.
9. The air tightness of the door: 2.5m3/Lh (10pa pressure difference) lll level
10. Lighting area: based on user requirements.
11. Seismic fortification intensity: 8 degrees, can as per customers requirement
12. Using temperature:- 40 ℃ - 70 ℃
Application
Either small opening or super big opening can be applied, so it is widely used in fields like aviation, shipyard, industrial enterprise, port, large-scale research base.