Hoisting Guillotine Door 00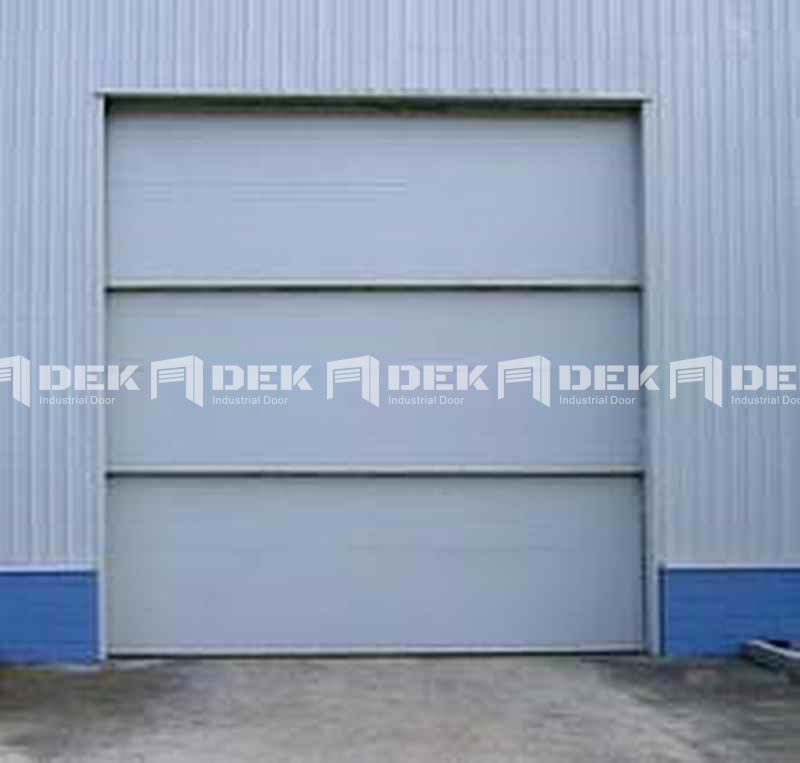 | | |
| --- | --- |
| Serial NO: | DEKDKM-0200 |
| OS: | SIEMENS PLC |
| Brand Name: | DEK |
| Opening Speed: | 0.1-0.3m/s |
| Temperature: | -35℃---45℃ |
| Place Of Origin: | CHINA |
Details

Description
Guillotine door is composed of six parts: door body, guide track, counter weight, shelter, transmission and drive. The size of the opening decides the number of guillotines. Counter weight is used to balance the weight, which is controlled on its own track by door operator. It is characterized by the low failure rates and multiple controls, such as multi block linkage drive, electrical drive, manual drive and automation. For super-size guillotine door, the counter weight can be replaced by a dynamic balancing system using specialized winch. The operating principle is: the steel wire round the crown block and traveling block, to implement opening an closing by chain transmitting and block transmitting. Each panel moves at different rate so as to simultaneously open or close the door.
Materials
The door body is designed as steel structure. When day lighting is undesired, it can use PU plate or other heat insulation material; when day lighting is desired, sunshine board with good performance in heat insulation and transmittance or other new material can be used. Several grooves constitute the track; sealing material would be EPDM rubber or industrial hairbrush which have good performance in low temperature-resistant, weatherability, flat and smooth and high elasticity. Drive pulley and chain wheel are made of fine carbon steel and are heat treated;
Characteristic
1. Stable start and stop, no impact loading;
2. The door body consist of multi blocks, which can make good use of the height structure of the building;
3. It's installed the safety inserting block and the brake instrument to guard falling.
4. Door area can choose infrared safety relay out system.
5. The driving part can be installed on top or at the bottom for convenient maintenance;
Technical Specifications
1. Opening speed: 0.1-0.3m/s
2. Operating temperature: -35℃---45℃
3. Wind-resisting capacity: according to the local climate and customer's request.
4. Electrical motor and reduction box: domestic or imported
5. Operating system power: according to the local voltage range
Application
Well fit into super size openings with narrow buttress on both sides and limited height. The door should be design according to the actual opening. Guillotine door is widely use in big and small hangar, mall entrance, Exhibition center and industrial enterprise;