Vertical Bi-folding Door 01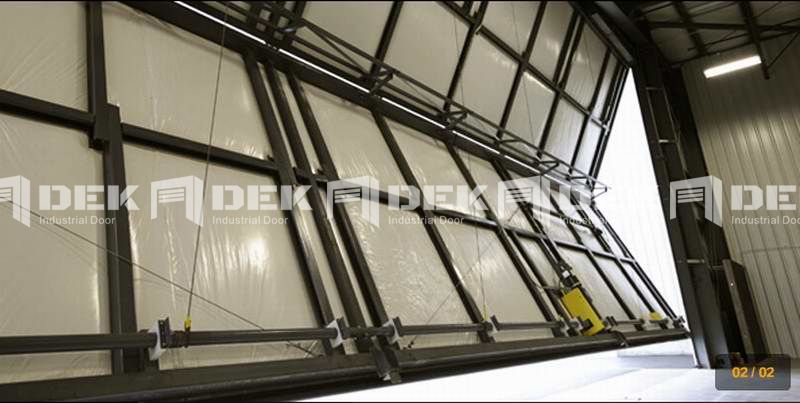 | | |
| --- | --- |
| Serial NO: | DEKSZM-0201 |
| OS: | SIEMENS PLC |
| Brand Name: | DEK |
| Opening Speed: | 6--9 m/min |
| Temperature: | -35℃---65℃ |
| Place Of Origin: | CHINA |
Details

Description
Overlapping door: multiple panels, articulated juncture, vertical lifting and panels gather under the floor or on top, maximum use of portal space; Hydraulic door: hydraulic drive single panel to the roof level; Bi-folding door: Consist of upper panel, lower panel, track, lifting system, sealing system and safety device; door operator is installed on lower panel; electric motor rotates the rolling block and change the length of lifting belt or steel wire, to realize door opening and closing.
Materials
1. Steel structure as framework, general selection is Q235. inside can be filled with heat insulation material, heat and sound insulation are good.
2. Customer can choose color plate, aluminum plate, corrosion resistant plate, aluminum composite plate or PU plate for outside decoration; or select day lighting form.
3. Lifting belt is made of imported fiber;
4. Electrical component can choose reliable brand;
Characteristic
1. According to design, vertical bi-folding door is lifted by several lifting belts which round the cylinders on the same axial;
2. Running smooth, low noise, with sound-light notice
3. All-rounded sealing, well sealed, heat insulation, noise reduction;
4. High safety parameter, stop block system, infrared system (optional)
5. Realize electrical control;
Technical Specifications
1. Opening speed:6--9 m/min
2. Maximum measurement:width is according to user requirements.
3. Power Supply: 380V/50Hz
4. Installing a fall protection components.
5. Estimated Wind Load :≥700pa
6. Motors and reducer: Domestic and imported motors are optional.
7. Electric control box protection class is IP55 level
8. The sound insulation performance: > 40 db
9. The hemline is equipped with limit institutions (optional)
Application
Vertical bi-folding door can be applied to long-span opening, especially those with no extra space on both side, which widely used for small hangar, garage, restaurant and other long-span openings.